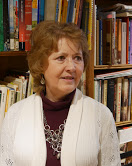 Contact:
fholt@telusplanet.net
Download
background information
In addition to books, Faye has published numerous short stories, poems, interviews and articles. She has provided readings and facilitated workshops from BC to Saskatchewan.

At an earlier stage in her career, she was a high school English teacher. Also, she has taught non-credit writing workshops at Mount Royal University, Calgary and for numerous writing groups. She has worked with all ages, from Grade One to seniors.

Formerly, an educational officer for Glenbow Museum, she has researched at museums and archives from Ottawa to Victoria. She is a member of historical societies and provincial and national writing organizations such as The Writers' Union of Canada, Canadian Authors' Association (Alberta Branch), Writers Guild of Alberta and Young Alberta Book Society.

Her Other Life
Faye is certain she has never been bored. Despite her passionate interest in words and history, she enjoys gardening, biking and hiking. Also, she loves anything and everything to do with family, friends, old and new photos, nature and travel.

Authored Books


Amazing Alberta
Canada's Rocky Mountains: A History in Photographs
Alberta: 100 Journeys (co-author)
Prairie Twins: Alberta & Saskatchewan Photographic Memories 1905-2005
Awed, Amused & Alarmed: Fairs, Rodeos & Regattas in Western Canada
Sharing the Good Times: Prairie Women's Joys and Pleasures
Homemade Fun: Games and Pastimes of the Early Prairies
Settling In: Early Homes of Western Canada
Monarchs of the Fields: The Story of the Combine Harvester
Threshing: The Early Years of Harvesting
Out of the Flames: Fires & Fire Fighting on the Canadian Prairies
Alberta: A History in Photographs
Help: Rescues & Disasters in Western Canada
Ice Fog: A Poetry Chapbook

Writer-in-Residence


Calgary Public Library
Alexandra Writers' Centre Society, Calgary
Freelance Editing
Managing Editor for Self-Publishing Client (Three Rivers Beckoned)
Guest Editor, FreeFall magazine, Anniversary Issue, Alexandra Writers'Centre Society
Book Editor, Alberta: the Canadian West by Douglas Leighton
Book Editor, Calgary by Patrick Tivy
Editor, FreeFall magazine, Alexandra Writers' Centre Society
Editor, Alberta Playwright Network Catalogue
Radio Interview: Faye Knows Stuff
Faye had the pleasure and honour of being interviewed by Shelly McElroy for her radio program on Mile Hi Radio. The radio program is called People Who Know Stuff and Shelly has focused on some of her favourite subjects, such as history, research, writing, drama and personal well-being. Faye was not sure what stuff she knows but Shelly was an excellent interviewer. Discussions surrounded exploration of western Canada, including sources of our historysuch as Heritage Park, Glenbow Museum and Archives, Headed Smashed InBuffalo Jump and other western Canadian-related history and topics. In thehour long interview, you will learn about her favourite childhood books and writing-related topics. If you want an in depth understanding of Faye'sthoughts, check out the interview.
Go to the following web link to listen to Faye's interview with Shelley McElroy on Mile Hi Radio.
https://itunes.apple.com/ca/podcast/people-who-know-stuff/id1399431757?mt=2&i=1000413835389#