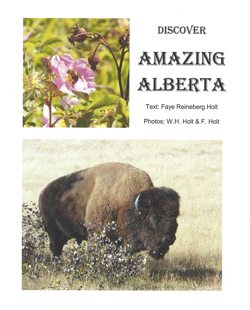 ISBN 978-0-9950543-0-1
$9.95 plus S&H
pb. 28 pages
b/w photographs
Calgary, AB: Casabella Works, 2016
Contact:
fholt@telusplanet.net
• Amazing Alberta
Amazing Alberta
Discover Alberta's history. Explore its natural world. Enjoy the sketches or colour them. Whether as an adult, youth or child, you will find much to astonish you.

Please read the following 2 paragraphs completely before attempting to download the free pdf copy.

This is suitable for Grade 4 and 5 students in Alberta. Given the difficulties for students, teachers and parents during the Covid 19 outbreak, Amazing Alberta is a free download until June 30. This download is a pdf--not an ebook or epub edition--but you are free to print it on home printers and use as needed. To have the free download, DO NOT click Add to Cart. Doing so will initiate an invoice for the print copy and postage. Do click the button that says free pdf download.

However, until further notice, if you do need print copies because of limited computer access for students, Faye will mail up to two copies for free and with no added postage. To have these sent, you need to email her at fholt@telusplanet and explain the circumstance. For more print copies priced at a reduced rate and also invoiced for postage, email her with circumstances, and she will get back to you.

Faye hopes this will be helpful, especially for Grade 4 and 5 Social Studies students, parents and teachers.