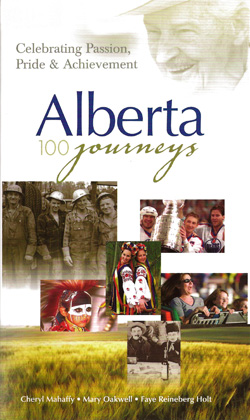 ISBN 978-0-9689594-1-1
$ 19.95 plus S&H
Calgary, 2007
Contact:
fholt@telusplanet.net
•Alberta: 100 Journeys

Planning an Alberta vacation?


In this AMA guidebook which is perfect for the car, backpack or your reading table, you will discover the places and events that make touring Alberta a special pleasure. As well as offering fascinating photos, history, geographical descriptions and practical tourist information, the book is a great gift idea, too.


Co-author of the book, Faye focussed primarily on southern Alberta while her writing partners presented Edmonton and area or Edmonton and northern Alberta.

The book is available from the author or from Alberta Motor Association. Website: www.ama.ab.ca
Currently not available