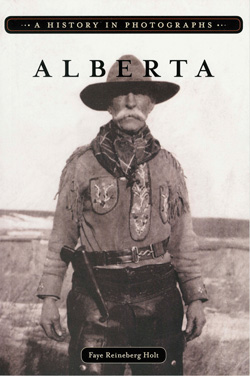 ISBN 978-1-894974-87-5
$14.95 plus S&H
pb. 112 pages
150 b/w photographs
Surrey, BC: Heritage House, 2009
Contact:
fholt@telusplanet.net
• Alberta: A History in Photographs

To many people, Alberta represents the true Canadian frontier. It is known for the rugged independence of its residents — whether they are homesteaders, cowboys, explorers, oilmen, grassroots politicians or strong-willed feminists.


This book is a wonderful collection of images and stories that tell of Alberta's many roots. Beginning in the 18th century and continuing into the present day, this collection of over 150 photographs chronicles the development of Alberta from a frontier society into a modern-day economic powerhouse.

...compelling images, each a window into tales of adventure, hope and hardship that fill the book....While Holt celebrates achievements, shameful chapters...are not glossed over.


— Calgary Sun