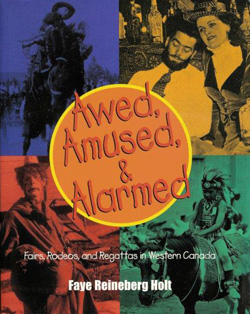 ISBN 1-55059-249-1
$19.95 plus S&H
pb. 225 pages
Detselig Enterprises Ltd
Calgary, 2003
Contact:
fholt@telusplanet.net
•Awed, Amused & Alarmed: Fairs, Rodeos & Regattas in Western Canada

"Folks, step right up and see the most amazing sight to ever come this way...".


Initially, the popular culture of fairs, rodeos, regattas and circuses seems inconsequential compared to the history of Canada's involvement in two world wars and the Depression, but that pop culture supported government efforts and encouraged people during those trying times. Such culture affected individuals and communities. In fact, this rich and diverse history awaits the simply curious, as well as serious social historians. Discovering its "truths" may be even more difficult than deliniating political and economic history.


From small towns to big cities, organizers wanted to showcase the best their communities had to offer. But local fairs grew far beyond their humble beginnings as agricultural exhibits. Audiences thrilled to see daring competitors and performers, laughed at comedians and clowns, and were left in awe of new technological marvels like flight.


This book covers many of those stories, including ones challenging to tell because they also reflect prejudices and injustices of the time.
Special from Author $19.95