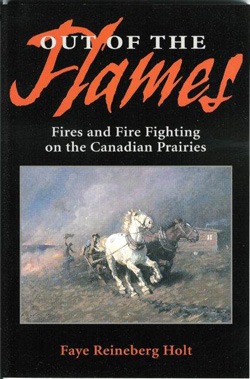 ISBN 1-894004-14-0
$8.95 plus S&H
pb. 128 pages
Fifth House Publishers
Calgary, 1998
Contact:
fholt@telusplanet.net
• Out of the Flames: Fires & Fire Fighting on the Canadian Prairies
The sight of a prairie fire sweeping across the horizon struck fear in the hearts of ranchers, settlers, miners and town folk in the developing West. Whether fought with wet burlap sacks, hastily ploughed fire guards, bucket brigades or the increasingly sophisticated equipment of early fire departments, prairie fires were daunting enemies for women, children and men in the Canadian West.

Fanning the flames of history...was the courage and selflessness of the people who fought prairie fires.


— Red Deer Advocate Life Magazine

...traces the history of uncontrolled fires...to the modern period....The fear of fire helped shape the nature of prairie society...a number of good stories.


— Canadian Book Review Annual

...the author takes a broad look at the various forms of fire and the way they were controlled. It is a fine book....


— Alberta History