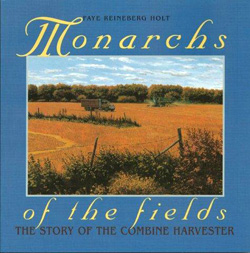 ISBN 1-894004-26-4
$6.95 plus S&H
pb. 48 pages
Fifth House Publishers
Calgary, 1999
Contact:
fholt@telusplanet.net
• Monarchs of the Fields: The Story of the Combine Harvester
The introduction of the mechanical combine to the Canadian prairies in the late 1930s changed the face of farming forever. Large threshing crews were replaced by a single machine capable of harvesting entire fields quickly and efficiently.


By using the combine, farmers gained more control over the harvest of their crops. Its efficiency led to larger farms, smaller farm families, less reliance on a neighbour's help, and freedom from weeks of back-breaking and dirty work.


Monarchs of the Fields looks at the history, processes and changes resulting from this innovation in harvest techniques. Archival photographs of the people and machines involved make this a special tribute to an important era in farm history.