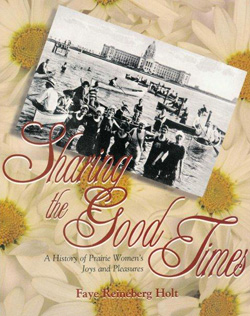 ISBN 1-55059-208-4
$19.95 plus S&H
pb. 232 pages
Detselig Enterprises Ltd
Calgary, 2000
Contact:
fholt@telusplanet.net
• Sharing the Good Times: A History of Prairie Women's Joys and Pleasures

Leisure and pleasure may never have been the top priority of prairie women, but the pursuit of joy has always been important. Today, the common perception of western women during the early settlement years is one of an overworked, stoic martyr. In a life filled with household drudgery, there could be no energy left for laughter and fun.


Yet a sense of humour and a capacity to enjoy leisure and pleasure were as common and important yesterday as they are today. Like women throughout the world, western Canadian women discovered ways to enjoy themselves no matter where or when they lived. It often surprises us that women of the era between the late 1800s and the 1960s not only had time for hobbies, parties, fun and games, but were also avid participants in many activities.


So, discover the good times for western women.



...both a tonic to the soul and a valuable addition to Canadian women's history...


— Canadian Book Review Annual
New Price from the Author $19.95