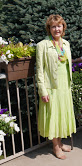 Contact:
fholt@telusplanet.net
return to
Programs

download print copy
Writer-in-Residence
Faye has been a features speaker at local, provincial and international conferences.
She has talked about specific topics and offered motivation for cultural groups, historical groups, writers' groups, librarians and teachers.
Such conferences have included American Society of Germans From Russia, Writers Guild of Alberta, Calgary public school teachers' conference, English Language Arts Council, Historical Society of Alberta, (Lacombe) Parkland Libraries Conference and others.
Also, she has been a web presenter for Education Institute in conjunction with Alberta Libraries Association and for other continuing education programs.
For ideas, see Readings and Speaker Events details , but she is also happy to tailor her presentation to your specific conference.
Upon your request, she will forward a proposal and full bio. She will speak to audiences of any size. Fees are negotiable.
Author Visits to Schools
If you want to plan author visits, there are many questions to consider. Having made more than 100 school visits all across Alberta, Faye guides you through the steps for incorporating author visits into your program. Your focus might be language arts, social studies or a multi-discipline approach to learning. You may want to include media, research, writing and themes ranging from our history to photography. During Professional Development days or conferences, Faye helps with concerns and questions such as how the event might relate to class instruction. Also, it is helpful to know the expectations of authors regarding behavior issues and special needs students. Most importantly, what communication is essential prior to the visit? And are there programs to help organize or fund the visit?
The Real Story of the Writing Process and a Writers Life For Teachers, Librarians & Cont. Education Staff
What is like being a writer? Before encouraging every talented writer to create novels & poetry or pursue a writing career, know the challenges. With e-books, blogs & self-publishing, writing has changed dramatically! Faye has experience to share. Having edited and authored many books, as well as articles, poetry and short stories, she has stories to tell. Also, a member of many writing organizations—local, provincial & national—she has offered writing workshops, manuscript feedback, & even managed a project for a self-publishing client. So there are few questions she can't address.
Teaching Nonfiction
Nonfiction tends to be undervalued by some teachers, but it is read by more people in the adult world that any other genre. Also, although many girls love nonfiction too, most boys prefer it to fiction, poetry or plays. So, engage them all. In fact, especially in today's world, many, many more young people will find careers working with nonfiction than in areas such as poetry, fiction and drama. Part of the issue is that there are so many types of nonfiction, teachers are challenged concerning where to begin. So, consider options that are informative, practical and fun for your classroom.
Writer in Residence
The opportunity for students and adults to work with an experienced writer can help them develop language skills for life or as writers. There are many ways to organize a writer in residence program for libraries, schools and community groups. Faye has the experience to take on the role for your students or clients. Although living in Calgary, Faye is happy to drive to surrounding communities from Red Deer to southern Alberta on a regular basis or to have a week-long residency in communities. When she is driving to areas, office hours can be established but manuscripts would be submitted in advance for her to evaluate at home. Then meetings with authors would take place in the community during office hours. Also, as with most writer in residence programs, a launch would be planned, as well as workshops and presentations. These would be planned in consultation with librarians, teachers or organizers.
Programs to Help You Plan and Fund Your Writer in Residency Program
All writers have different strengths, and of course, they work with different genres and often prefer specific age groups. Writer organizations and provincial programs and grants can help you find writers for author residencies in schools, libraries or community centres. Learn what programs and web sites will be helpful. If you hope to have a writer in residence, discover funding possibilities, too. Also, learn realistic expectations and options for your program.